Helping the Community - Charity of the Year for 2017
We have supported Children's Hospice South West (CHSW) for 10 years now
and it will once again be our chosen 'Charity of the Year'.
CHSW is currently the only provider of specialist hospice care for children in the region. It offers much needed support for youngsters with a life-limiting or life-threatening condition and their families at its three hospices: Charlton Farm in North Somerset, Little Bridge House in North Devon and Little Harbour in Cornwall.
We raised £2,686 for the charity in 2016 by providing visitors to our farm with teas, coffees and mince pies in return for a donation to the charity.
We were ably assisted with these efforts by the Wellington Friends Group of CHSW who have been tremendous throughout. Without our customers' assistance, this would not have been possible so a huge thanks goes to them. We're delighted to have collected so much.
Our tree donations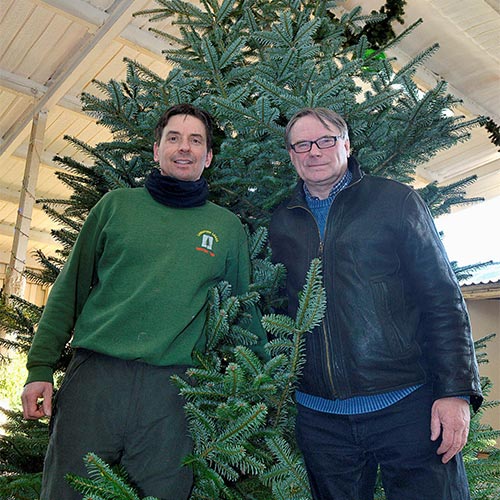 Town centres
In 2016, we also donated free of charge three large, freshly cut Christmas trees to Wiveliscombe, Wellington and Taunton town centres to help them celebrate the yuletide. It is all about us giving something back to the people in the local area who support us. We have supplied a tree to Wellington for the past 10 years and trees to Taunton and Wiveliscombe for the past four years. We love to see our trees standing tall in each town centre and the joy they bring to families who are out and about doing their Christmas shopping.
Charities
We also receive a number of requests each year to donate Christmas trees to charities in the area. We are happy to donate where possible to help spread the Christmas spirit. Charities in the past who have received one of our home-grown trees include CHSW, SeeAbility, a sight loss and disability charity based at Fiennes House in Wellington and St. Margaret's Hospice in Bishops Hull.
Opening Times 2017
Open every day from Friday, November 17 at 10am until Saturday, December 23. Full opening hours here.
Late Night Openings
On December 1, 6, 7, 8, 13, 14 and 15 we will be open until 8pm with musical entertainment.